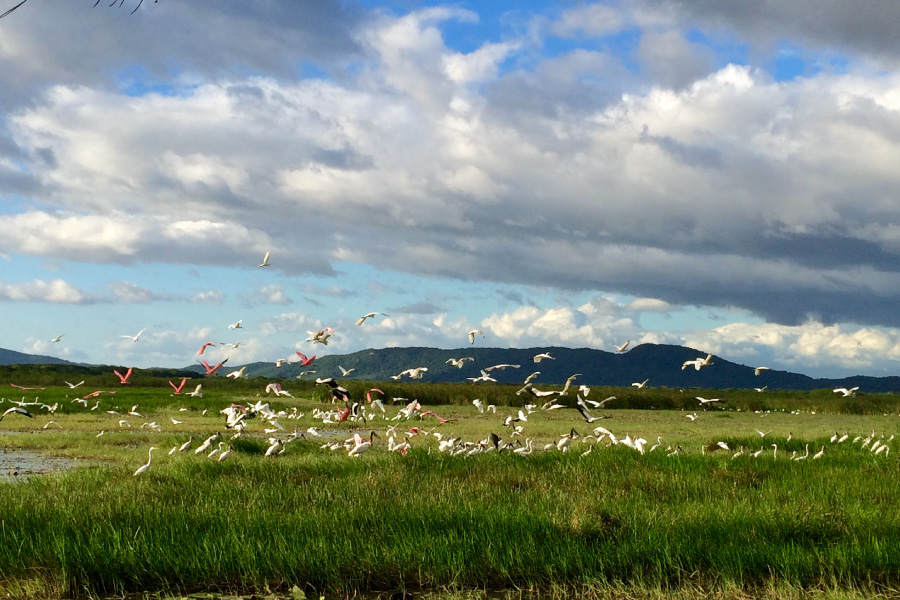 Palo Verde National Park is best known for its super bird watching in Costa Rica, along with fantastic nature and wildlife viewing.
The combination of wetlands, salt water marshes and dry tropical forest create a home for hundreds of migrating and native waterfowl. Monkeys, iguanas, Jesus Christ lizards, turtles, and huge crocodiles also live in the rivers, mangroves, trees, and riverbanks. You will be able to see these animals up close in their wild habitat on a comfortable two-hour river safari along the Tempisque River.
Following the river cruise, you will enjoy an authentic Costa Rican lunch cooked in a traditional wood-burning kitchen. Afterward, you will visit the famous artisan village of Guaitil, where descendants of the indigenous Chorotega tribe make beautiful traditional pottery applying the same techniques their ancestors have used for thousands of years.
The last stop of your Guanacaste excursion is at the "Small Store Coffee Tour", where you'll learn about coffee, how it is processed, and its importance to Costa Rica. You also can buy some of the best coffee in the world to take home.
Duration: Full day
Meals included: Lunch
Rates:
From Zone #1: Adults: $95.00 / Kids (4-6 years): $85.00 (RATES + TAXES)
From Zone #2: Adults: $120 / Kids (4-6 years): $110.00 (RATES + TAXES)
Children 3 years old and younger are free / Age 7 years and up pay as an adult.
Tour operation days: Tuesday & Thursdays with a minimum of 4 people.
What to Bring? Hiking or tennis shoes, comfortable light clothing, binoculars, insect repellent, camera, sunscreen, and a hat.
Pick-up places and times:
Zone #1:
7:15 a.m.: Ocotal, RIU, Allegro, 4 Seasons
7:30 a.m.: Playa del Coco
7:45 a.m.: Playa Hermosa
7:55 a.m.: Playa Panamá
Zone # 2:
6:00 a.m.: Tamarindo, Playa Grande, Pinilla, Flamingo, Potrero
6:15 a.m.: Conchal, Brasilito
Palo Verde Nature Cruise
A famous tour in Costa Rica. Watch wild animals up close at their own habitat; in a comfortable river-safari.