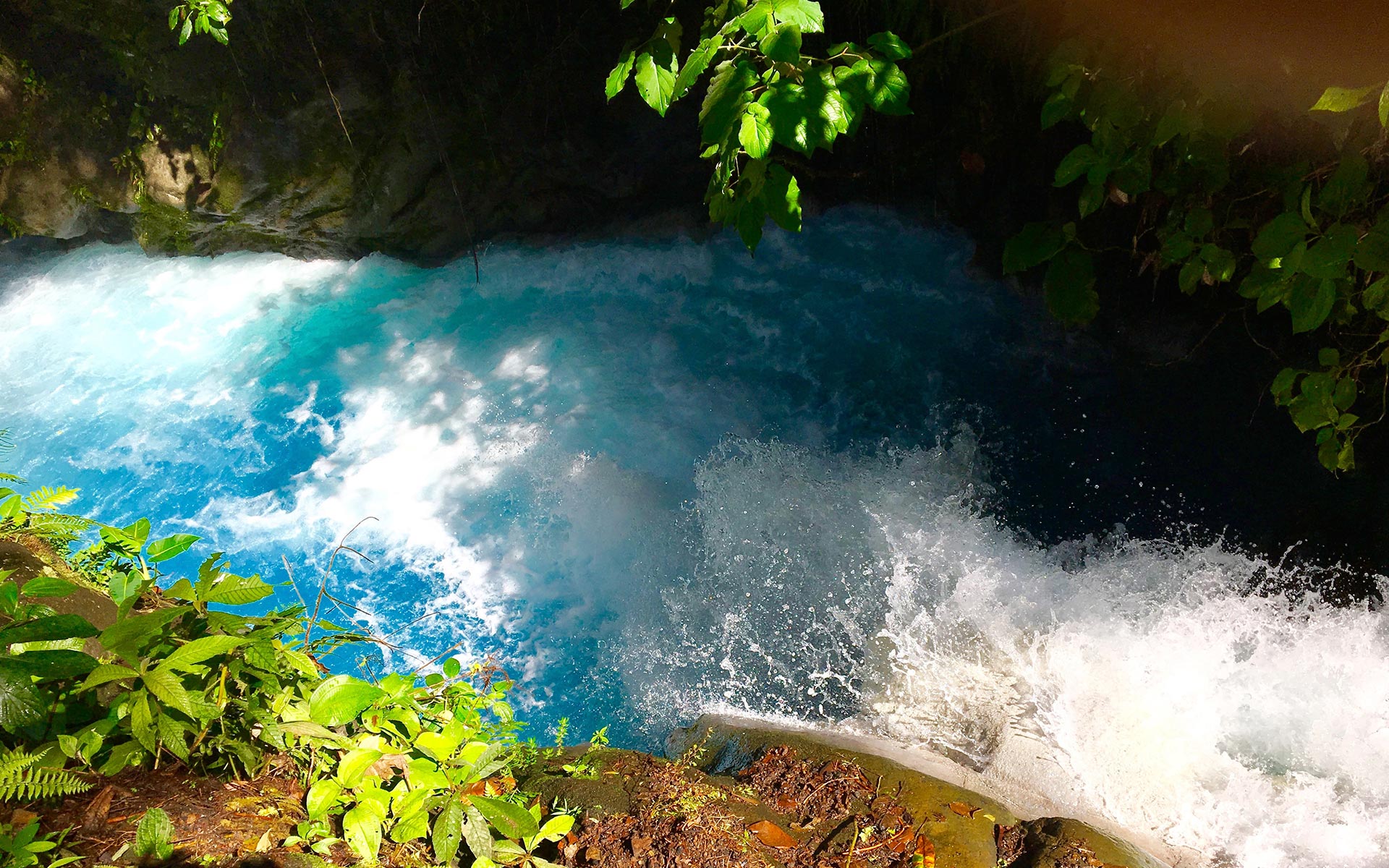 With the shortest access to Rincón de la Vieja majestic crater, Sensoria is not only the best gateway to Guanacaste's largest active volcano, but also a natural treasure that even Costa Rican's have only just recently discovered.
We look forward to greeting you with a refreshing fruit juice made just for you as you arrive to our treasured rainforest! You'll be surprised to witness the difference in scenery: you are suddenly in a lush, tall, green forest when minutes ago you drove through what seemed like the endless dry fields of Guanacaste.
After you've finished your tropical drink and changed into comfortable clothes, we will take you hiking through Sensoria's enchanting jungle trail. Prepare for bright blue water springs, deliciously warm thermal pools, rushing waterfalls and the chance to see some of Costa Rica's famed wildlife, naturally protected in this private wildlife sanctuary at the skirt of Rincón de la Vieja volcano. After a nice 3-4 hour walk through the rainforest learning about its mysteries and creatures, you'll settle down by a natural volcanic pool to enjoy your delicious lunch box made with fresh local ingredients. Watch and see, you'll want to stay here forever!
Days Available: Monday through Sunday (Every day!)
Tour Times: 9:30am
Prices per person:
(2015-2016) Adults: $110 / Children (6-11): $80.
TOUR INCLUDES:
Taxes
Welcome drink
A local guide
Walking stick and renewable water bottle to use during your hike
A full delicious lunch box
Use of the trails on Sensoria's private rainforest
Full access to two natural pools, two bright blue waterfalls, a mesmerising rainforest canyon and our stellar volcanic thermal pool
AGUILAR WATERFALL AND POOL
The whimsical bright blue colour of this inviting pool and waterfall is produced by the effect of sunlight on the volcanic silicon impregnated on its rocks. This spot offers the perfect welcome to Sensoria, with refreshing waters, a playful waterfall and a surrounding view of pristine rainforest to make you feel right at home in Rincón de la Vieja's wild jungle.
Jump in to experience the rush and strength of the river, swim against the teasing resistance of the waterfall and enter its transparent, liquid curtain to watch the fall from the inside, knowing you're at the heart of an untouched secret, where water has flowed for as long as the volcano has existed.
BUENOS AIRES WATERFALL
The energy of a twenty metre drop in a tall rainforest canyon produces a delectable cool breeze that blows away all thoughts and pains. "Buenos Aires" translates precisely into "Good Winds", the perfect name for this revitalising spot.
Standing head-on towards the imposing waterfall, its strength will somehow renovate your own. With your feet steadily placed on the smooth, large river rocks and your chest firmly facing the incessant brush of fresh air, an irremediable smile will creep into you, pouring out through your teeth with the newly found, indefinable wisdom that nature brings with its unintelligible words.
DANTAS WATERFALL AND POOL
Named after the Costa Rican word for the rare Baird's Tapirs that roam Sensoria, Dantas' warm waterfall stems from a natural spring born on the property. Plunge in for a delightful rest in this cosy thermal pool and contemplate the natural habitat of one of Central America's Rainforest's most emblematic and elusive animals.
Remember you are in their home. Isn't it exciting? During your hike you might have walked right by one of these enormous but secretive creatures, and now you're swimming in a pool they probably use during the night, under the faint glow of the stars through the dense curtain of the canopy above.
LA JÍCARA WATERFALL AND POOL
A large, fallen tree replete with hanging vines and ferns bridges the river, giving "La Jícara" the wild jungle feel you've often dreamed about. Gourds are well-known trees throughout Costa Rica because of their large, hard-shelled fruits which have traditionally been used to make bowls and canteens, and are now used for as many creative crafts as can be thought of, including lamps, maracas, and even simply as ornamental trees. Sensoria hosts another species of gourd found only in this area of Costa Rica and the world, and which is one of the Baird's Tapir's favourite foods. Let the water fall over your shoulders with its warm and gentle touch, and try to imagine the patient but steady growth of the vines around you, and the confident burst of life in every leaf seeking the tropical sunshine.
PILÓN POOL
A still, crystal-clear thermal pool in the middle of the rainforest, surrounded by tall trees and the relaxing murmur of warm water falling over stones, Pilón pool is where you'll want to stop and soak forever. Just the right amount of degrees above body temperature, its waters are pleasantly addictive, while the towering trees surrounding the natural pool are perfectly reflected along with the sky beyond the canopy.
Slide into the small cascade at the top of the pool and let yourself be cradled by the marbled stones of the naturally formed "Jacuzzi", the warm volcanic water massaging your muscles after your long walk through the forest, the sounds of tropical birds and waterfalls orchestrating the perfect setting for your senses.
MADRIGAL CANYON
Tall, moss-covered, stone walls channel the stream up to the semi-enclosed double waterfall. The path into the canyon seems to embrace with ancient, protective, welcoming power, echoing the liquid rumble of the clear cascade beyond. Once in the cove, water pours into the pool and onto your tired shoulders, silencing all thoughts and sliding mindlessly down your back as it has down volcanic stones since the beginnings of Rincón de la Vieja.
Take the time to float on your back in the narrow canyon. Let the sun gently kiss your skin through layers of leaves in the swaying treetops. Listen to the musical touch of pebbles, dancing to the rhythm of the eternal gush of water flowing by.
DETAILS AND CANCELLATION POLICY:
Personal Guide Tour shared and operates with a small number of participants.
Private tours can be arranged at an additional cost (by covering the cost of the eight slots).
An 8 days cancellation policy applies to all reservations: any cancellation done within 8 days of scheduled arrival will be fully charged.
Prices are subject to change.
For security reasons, and limitation on number of visitors allowed, only by reservation. No walks-ins allowed.
Monterde Cloud Forest (Cooming soon)
Arenal Volcano Day Tour (Cooming soon)
Sensoria Land of Senses
With the shortest access to Rincón de la Vieja majestic crater, Sensoria is not only the best gateway to Guanacaste's largest active volcano