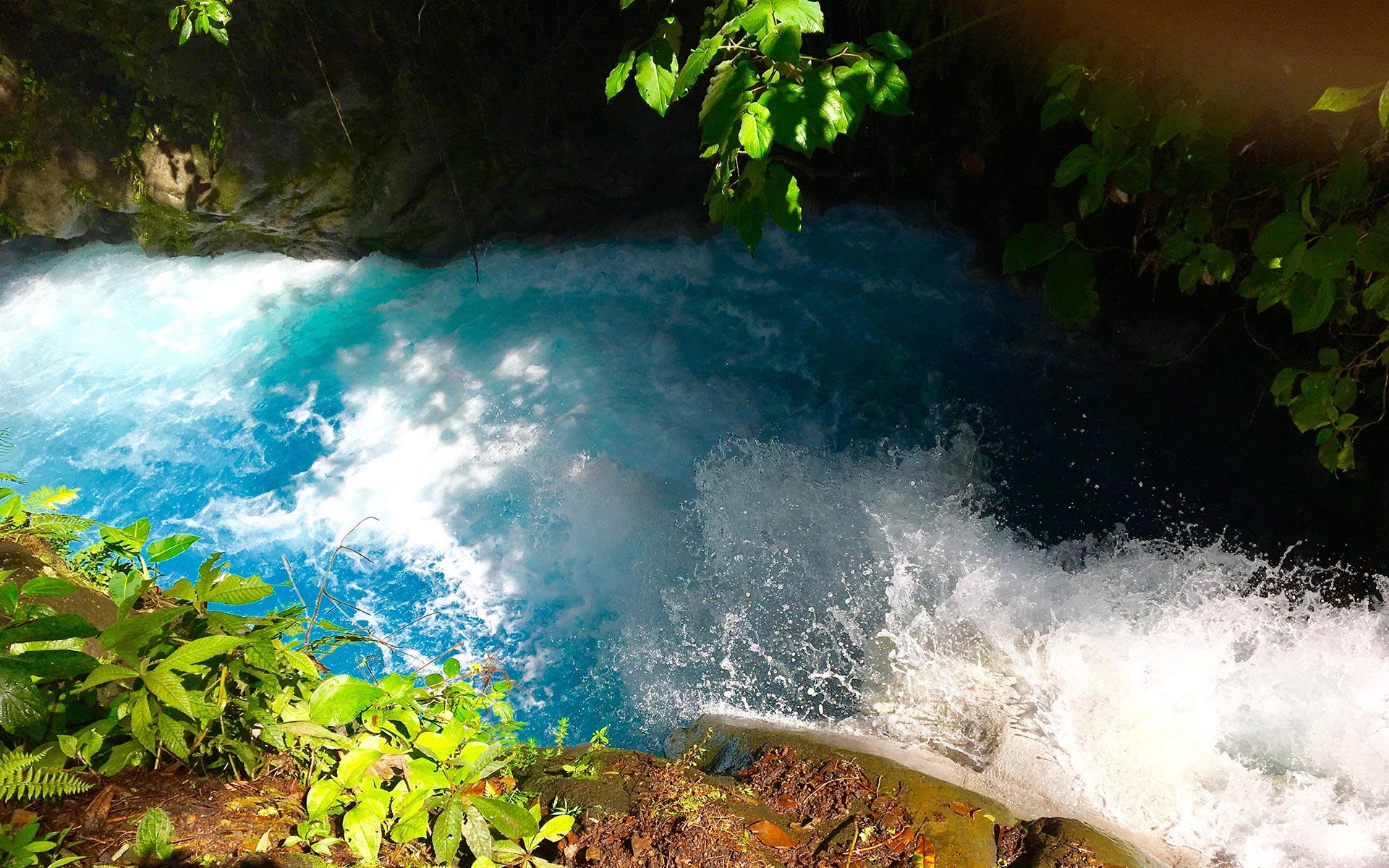 Walking through the rainforest in Costa Rica should not be missed, especially on the unique Guanacaste tour to Sensoria, Land of Senses.
On the north side of the Rincon de la Vieja Volcano in Guanacaste, dry rolling plains give way to lush, tall, green rainforest, home of the Sensoria private nature reserve. Welcome to Sensoria's enchanted paradise of gushing waterfalls, sky blue streams, warm thermal springs, ornate orchids, and wild earth overflowing with dense rainforest where jaguars and tapirs roam.
On this extraordinary Guanacaste excursion, you will hike with a naturalist guide through the jungle to hidden waterfalls and pools where you can swim: the electric blue Aguilar Waterfall, the 20-meter-high bright blue Buenos Aires ("Good Winds") Waterfall, beautiful La Jícara Waterfall, the warm natural thermal springs of Dantas Waterfall, and finally to the crystal-clear thermal Pilón Pool in the middle of the rainforest. Pilón pool is where you'll want to stop and soak forever, listening to the relaxing murmur of warm water falling over stones.
Along your journey, hopefully you will see some of Costa Rica's famed wildlife protected in this private reserve at the base of the Rincón de la Vieja Volcano. After a 3 to 4 hour walk learning about the rainforest's mysteries and creatures, you'll return to the dining hall for lunch made with fresh local ingredients.
Duration: 4-5 hours (tour begins at 9:30 a.m.); open every day
Meals included: Lunch, welcome drink, and fruit snack.
Rates including pick up service
From Zone #1: Adults: $175 / Kids (5-11 years): $130 (RATES + TAXES)
From Zone #2: Adults: $150 / Kids (5-11 years): $130 (RATES + TAXES)
TOUR OPERATION DAYS: Every day with a minimum of 6 people.
PICK-UP PLACES AND TIMES
Zone #1: Papagayo, Hermosa, Coco, Ocotal, Riu, Playa Panamá, Four Season. Pick up: 7.00 am – 7.30 am
Zone #2: : Brasilito, Langosta, Tamarindo, Conchal, Flamingo, Potrero. Pick up: 7.00 am
*Pick up time may vary depending on the location of your hotel.
Rates including pick up service Adults: $120.00 / Kids (5-11 years): $90.00; children younger than 5 years old are not recommended.
Minimum: 2 people
What to Bring? Hiking shoes, light clothing, swimsuit, towel, binoculars, camera, insect repellent, waterproof sunscreen, and a hat.
Restrictions:
For security reasons, and limitation on number of visitors allowed, this tour is by reservation only. No walks-ins allowed.
Children younger than 6 years old are not recommended for this tour.
Sensoria Land of Senses
With the shortest access to Rincón de la Vieja majestic crater, Sensoria is not only the best gateway to Guanacaste's largest active volcano