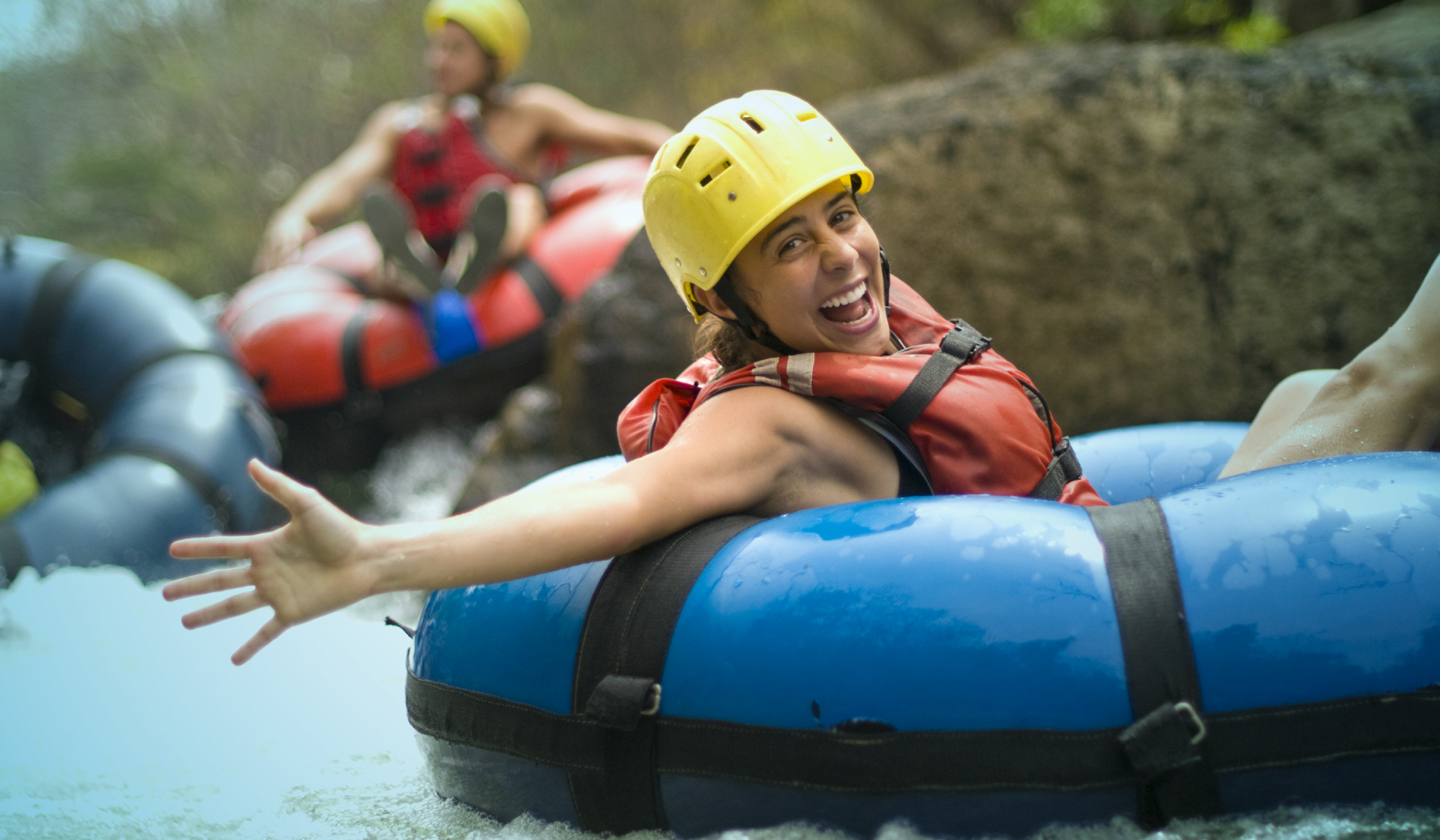 River Float Tour
The Corobici River flows from the Tenorio Volcano and meanders 25 miles out to the Gulf of Nicoya.
The river is bordered by a tropical forest where you will see towering trees like the Ceiba, Palm, Mahogany and our national tree, the Guanacaste. Iguanas – some up to 6 feet long -, Monkeys, Otters, Coatis, and the small harmless crocodiles, all make their home along the shores of the Corobicí.
This is a birdwatchers paradise! Aracaris, Parrots, Mot-mots, Cuckoos, Laughing Falcons, Kingfishers, Sun grebes, Egrets, Wood storks, Ospreys, Trogons, seven different species of herons including the boat billed heron, and the Jabiru have all been seen along the Corobici River. The tour on the Corobici River is very calm; it is classified class I-II.
The tourists do not have to row because our guides row the boat during the trip, you can just relax and enjoy the abundant wildlife on this river. There are several places to swim if you wish to. This is not a White-water Rafting Tour!
Do not forget to bring your bathing suit, camera, binoculars, sunscreen, and a hat. The tour includes a snack that is fresh fruit, juices, also cookies are included.
We offer three different tours:
2 hour Corobici river tour, this tour can be done at any time during the day in from 7 a.m. until 3 p.m. Any person can do this trip, there is no age limit. Only included a snack.
Adult: $40 / Children (From 4 to 14 years): $30
3 hour tour, special for birdwatchers, it can be done at any time but it is recommended to be done early in the morning in order to have a better chance  to see the great variety of birds the live by this river. Only included a snack.
Adult: $48 / Children (From 4 to 14 years): $35
Half a day tour, this tour is for those extreme-nature lovers who wish to spend more time with the wildlife of this wonderful place. Travelling time is about 4 hours and included snack and lunch.
Adult: $65 / Children (From 4 to 14 years): $45
Additionally tourists can visit an animal shelter for endangered species such as ocelots, jaguars, pumas, macaws and parrots, this shelter are small but it shows the special job that is being done in the area to protect our wildlife. It is a private place but tourists are welcomed in a very friendly way.
CAPACITY
The tour operates with a minimum of 2 people.
TOUR SCHEDULE
From 7 am until 3 pm (You choose the best time for you)
RESERVATION POLICIES
Cancelations must be done at least 48hrs prior by email, otherwise there´s no refund.
LOCATION
Our operation centre Safaris Corobici S.A. is located 4.5 kilometres northwest From Cañas down town, in the centre of the North pacific touristic region, right off the Highway. It has a strategic location being close to many touristic destinations Costa Rican such as most of the Pacific Beaches, many of the national parks, volcanoes and wildlife refuges, each of these reachable in an average time distance of an hour.