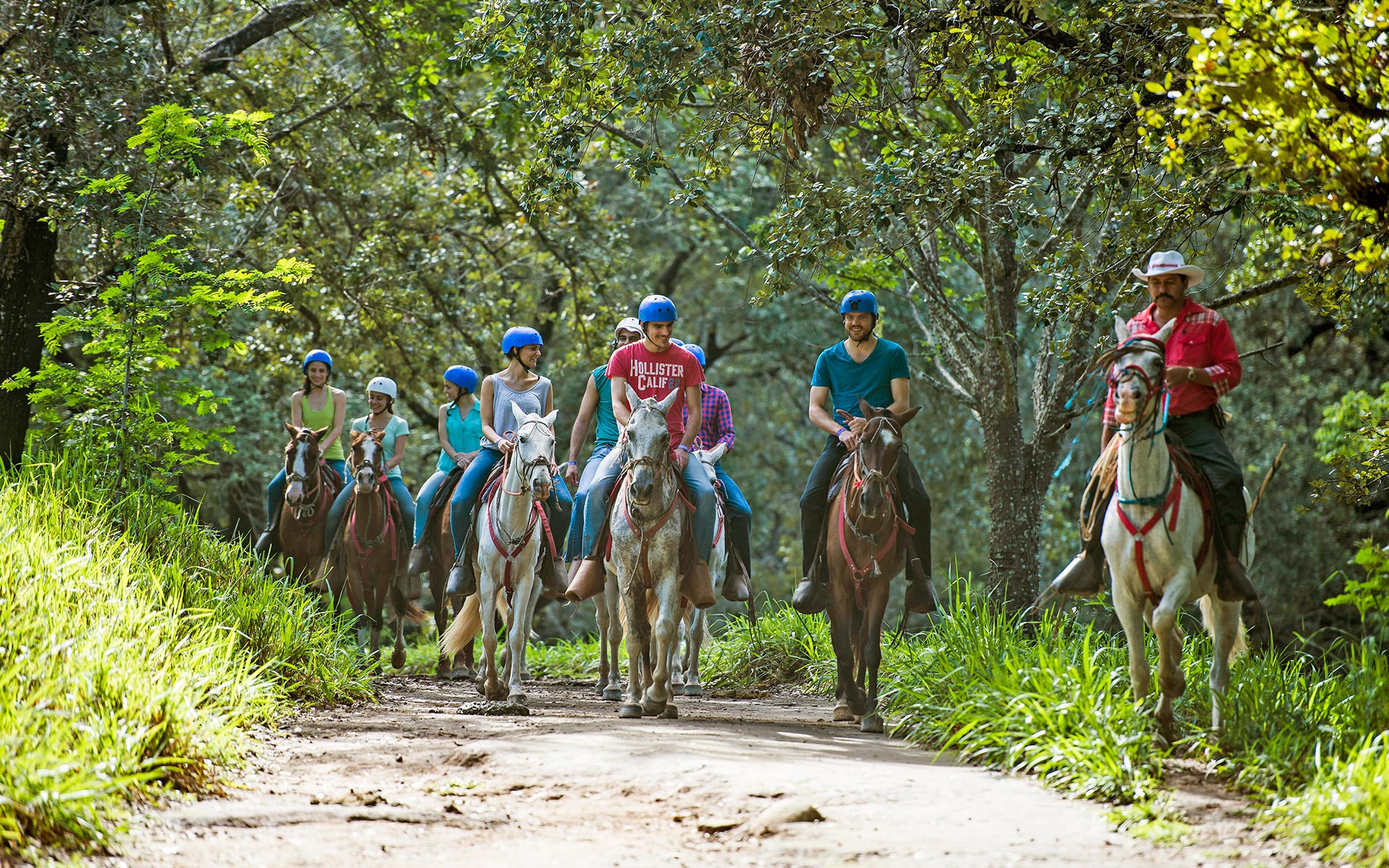 The Las Pailas area, , spectacularly shows off the awesome power of the Rincón de la Vieja Volcano , the largest and most active volcano in Guanacaste, Costa Rica. Steam and sulfur pour out of yellow and rust-colored ground at natural fumaroles. Clay and coffee-colored pools boil with hot volcanic water. Smooth gray volcanic mud bubbles and explodes in large pits. It's an experience like no other volcano in Costa Rica.
With our bilingual naturalist guide, you will hike the Las Pailas loop trail 2.5 miles (3.5 km) through dry tropical forest to see the best views of the volcano, incredible nature, volcanic activity and wildlife. The park is home to more than 300 bird species, and other animals like armadillos, collared peccaries, iguanas, snakes, white-nosed coatis, and white-faced, howler and spider monkeys. When we finish in the park, our day tour in Guanacaste ends with the walk back to Hacienda Guachipelin.
The Oropendola waterfall is a very impressive 82 feet high natural shower. The emerald green water invites for a refreshing dive. The waterfall is located in a beautiful vegetated canyon which beauty you'll enjoy. Beautiful and relaxing, the volcanic hot springs at Hacienda Guachipelin bubble up in the Rio Negro ("Black River"), heated naturally by the Rincon de la Vieja Volcano – the largest and most active volcano in Guanacaste, Costa Rica. Surrounded by thick forest, the crystal clear river flows through 10 man-made pools we have created to capture the steaming mineral-rich water. You access pools (of varying temperatures) on both sides of the river by two hanging bridges. Heated volcanic clay is available to smooth all over like a "spa body masque." After it dries, wash it off with a cool shower or jump in the river before soaking again in the hot pools. The complete relaxation is pure bliss.
Duration: Half day 6  hours (8.30 am).
Meals included: NO.
Rates: Adults: $62.00 Kids: $52.00.
Minimum: 2 people.
What to Bring? Camera, swimsuit,  long pants, comfortable clothes, hiking or tennis shoes, sunblock, mosquito repellent and a hat.
Restrictions:
The National Park is closed on Mondays.
The entrance fee to the park is not included on the rate.
Rincón de la Vieja National Park Las Pailas Trails + Oropendola  Waterfall + Rio Negro Hot springs
The first stop is a hidden gem that can't be found on any tourist guidebook.