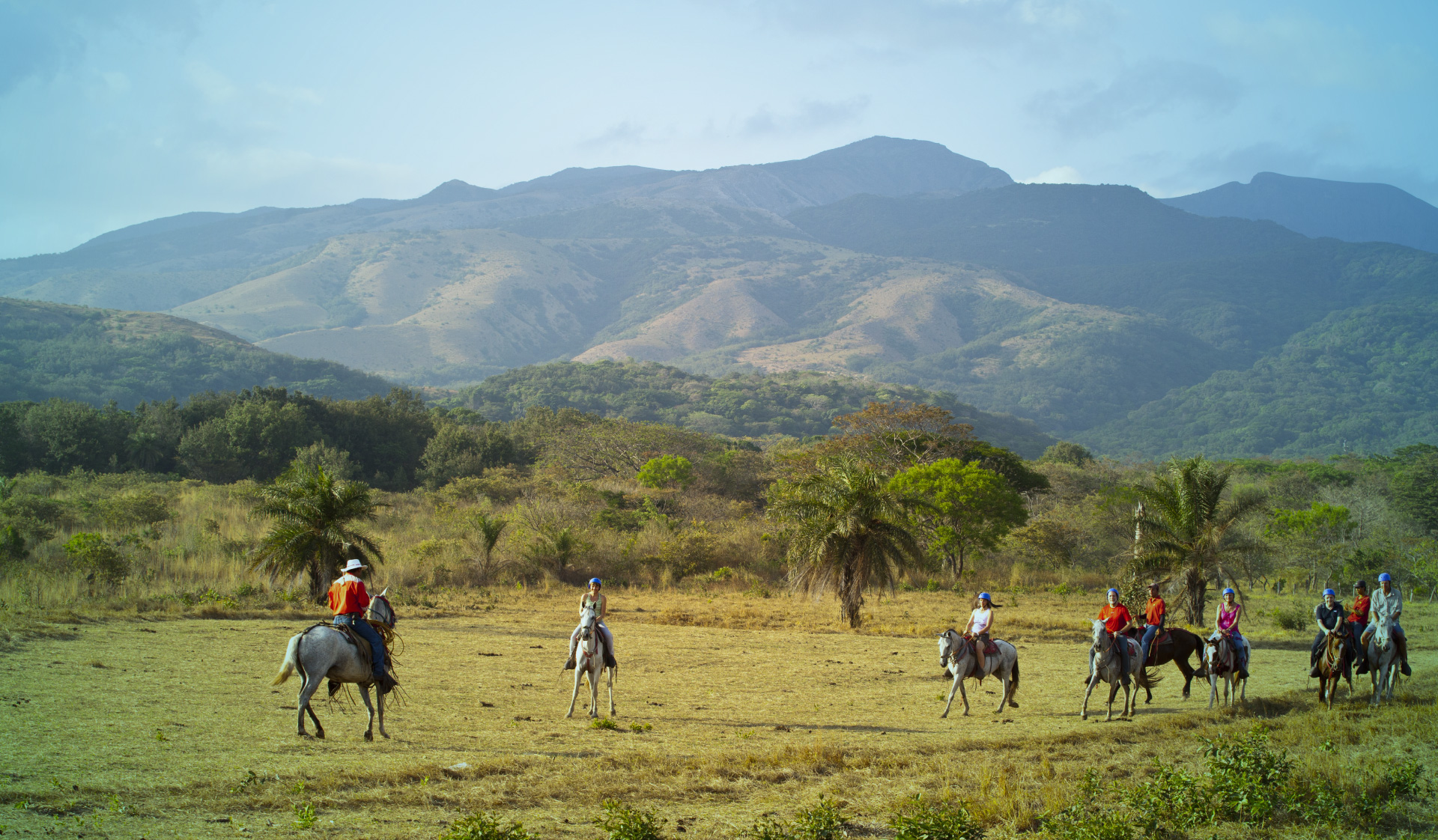 In Costa Rica, some say the best "all-terrain vehicle" for navigating the country is a horse. Enjoy an amazing day tour in Guanacaste horseback riding to the best hot springs at Rincón de la Vieja Volcano! On this Costa Rica adventure tour, you'll visit both the Sulfur Springs and also Rio Negro Hot Springs.
We'll ride our calm and friendly horses from Hacienda Guachipelin's stables on scenic trails through tropical dry forest and the Hacienda ranch. You will see a variety of birds, mammals and reptiles on our two-hour journey into the Santa Maria section of the Rincón de la Vieja National Park to the Sulfur Springs. These natural volcanic hot springs have a high concentration of minerals with healing properties.
After a relaxing break, we'll mount up to ride an hour to the Rio Negro (Black River) Hot Springs. There, we'll enjoy our delicious picnic lunch by the river, soaking in the amazing natural beauty of the area.
Surrounded by thick tropical dry forest, the Rio Negro Hot Springs is a lovely, tranquil setting. The crystal clear river flows through 10 man-made pools filled with steaming mineral-rich water heated naturally by the Rincón de la Vieja Volcano. You access pools on both sides of the river by two hanging bridges. Heated volcanic clay is available to smooth all over like a spa "body masque." After it dries, wash it off with cool river water before jumping back in the hot pools.
There are changing rooms, bathrooms and lockers at the hot springs entrance. From there, you will walk a pretty trail less than a quarter-mile (350 meters) through the forest to the hot springs pools.
All of our horseback rides follow mostly forest trails, with very little time on transited ranch roads. All tour participants must wear riding helmets.
Duration:  Full day 7 hours
Rates:  Adults: $65.00 Kids (4 to 12 years): $55.00 (Entrance fee to the National Park is not included on the rate $15.00) Box lunch included on the rate
Minimum: 2 people
What to Bring?
Camera, long pants, swimsuit, comfortable clothes, closed toe, sunblock, mosquito repellent and a hat.
The Rincon de la Vieja National Park is closed on Mondays. However all of the rest of our tours operate every day