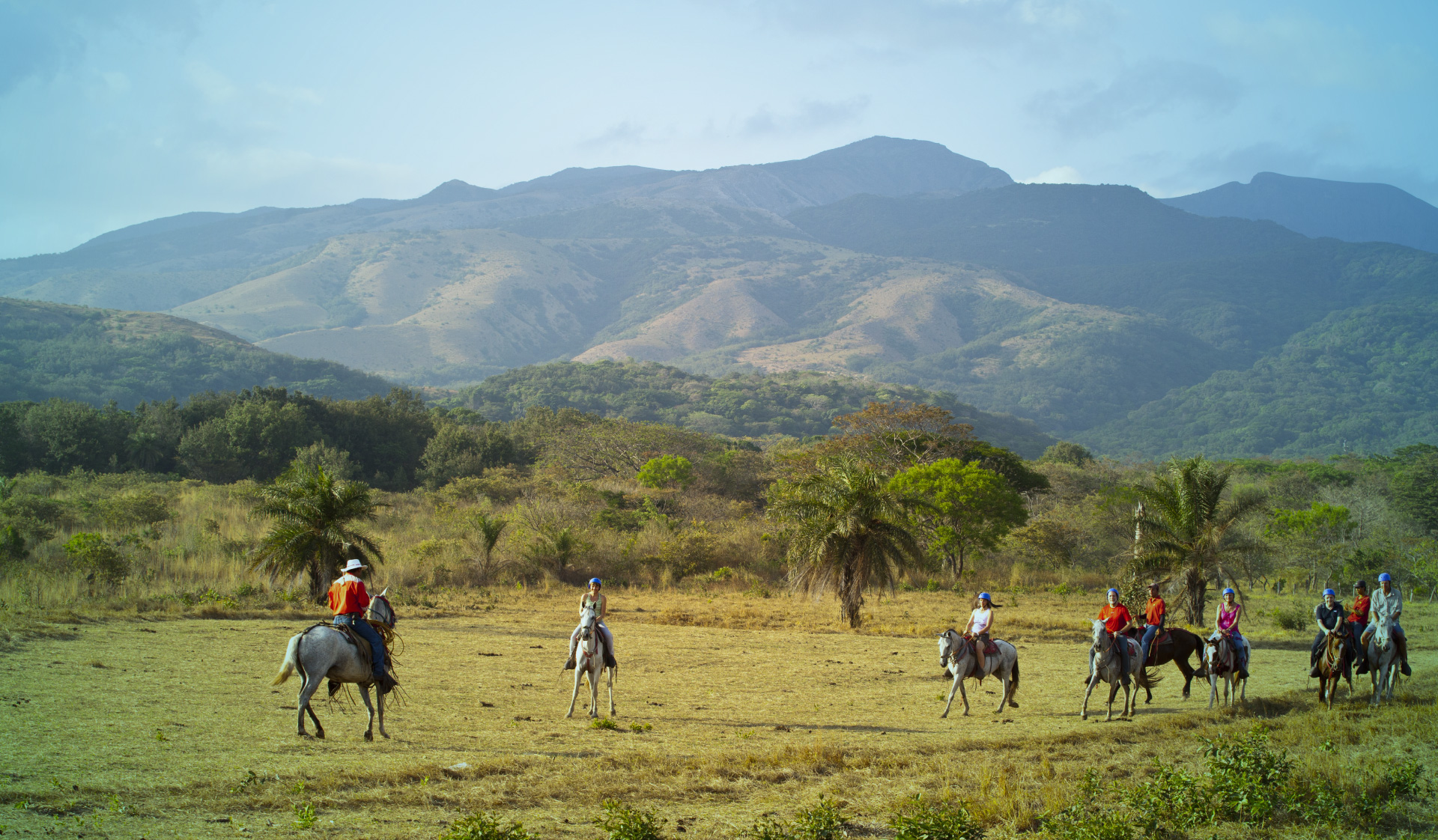 Enjoy a perfect day tour in Guanacaste hiking in the Rincón de la Vieja National Park, horseback riding, and visiting the spectacular Oropendula Waterfall.
From Hotel Hacienda Guachipelin, you will ride 45 minutes on a pleasant forest trail to the Las Pailas entrance of the Rincon de la Vieja National Park. Meaning "The Cauldrons" in Spanish, the Las Pailas area spectacularly shows off the awesome power of the Rincón de la Vieja Volcano, the largest and most active volcano in Guanacaste, Costa Rica. Steam and sulfur pour out of yellow and rust-colored ground at natural fumaroles. Clay and coffee-colored pools boil with hot volcanic water. Smooth gray volcanic mud bubbles and explodes in large pits. It's an experience like no other volcano in Costa Rica.
Hiking in the Rincón de la Vieja National Park on the Las Pailas loop trail takes you 2.5 miles (3.5 km) through dry tropical forest to see the best views of the volcano, incredible nature, volcanic activity and wildlife. You will cross little rivers and see small waterfalls along the trail. Our bilingual naturalist guide will point out many of the 300 bird species that live here, and any other animals, like white-faced, howler and spider monkeys, armadillos, collared peccaries, iguanas, snakes, or white-nosed coatis.
When you finish your hike, you'll be ready for a refreshing swim in the Oropendula Waterfall. It is a short walk from the national park entrance on a trail with varying terrain to get down to the river bottom. The Oropendula Waterfall plunges an impressive 82 feet (25 meters) to a sparkling turquoise pool in the lush canyon of the Rio Blanco (White River), creating a picturesque tropical oasis.
After the waterfall, our horses will be ready to take us back to Hacienda Guachipelin (40-minute ride).
All of our horseback rides follow mostly forest trails, with very little time on transited ranch roads. All tour participants must wear riding helmets.
Duration: Half Day  4 hours
Rates:  Adults: $45.00 Kids (4 to 12 years): $35.00 (Entrance fee to the National Park is not included on the rate $15.00)
Minimum: 2 people
What to Bring?
Camera, long pants, swimsuit, comfortable clothes, closed toe, sunblock, mosquito repellent and a hat.
The Rincon de la Vieja National Park is closed on Mondays. However all of the rest of our tours operate every day